Oceanographic radar Actimar participated in the SeaTech-Week by presenting its services for TOTAL in South Africa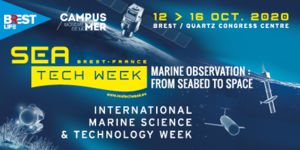 Actimar recently extended the observation network now composed of 6 HF WERA radars and provides a real-time service of surface current measurements off the coast of South Africa, updated every 30 minutes.
The spatial coverage of the radars allows to anticipate the arrival of ocean eddies almost 2 weeks in advance and thus to better plan and reduce the risks related to operations.
The service uses 2 innovative software solutions developed by Actimar:
– HYDDOA: solution allowing the high-resolution estimation of surface currents with performances superior to conventional methods,
– SEAWAS: a solution for detecting and tracking eddies off South Africa.